CLINIC:
Gábor Molnár, CEO and owner of HairPalace Clinic
Team of 6 doctors, surgeons, assistants
Doctors : Ljuba Zsolnai, Katalin Sereny, Erika Gucsi, Virag Farkas, Sandor Tar, Orsolya Sobjak
MEDICAL TOURISM:
Online consultations for the elaboration of a treatment plan (free treatment plan)
Consultations in Western Europe (London, Manchester, Leeds or Birmingham, Paris, Lyon, Marseille, Strasbourg, Berlin, Munich, Hamburg, Frankfurt, Düsseldorf or Stuttgart).
45 - 50 patients per month (French, British, Belgian, Dutch, Austrian, German).
Interpreters (English, French, German)
Accommodation: Premium apartments, airport transfers.
PRICES: AUTOMATED FUE
Billing is established according to the number of transplanted hairs

Price: 0,7 € - 0,8 € / hair according to quantity (the equivalent of 1,5 € / graft on average).
5% discount for cash payment

4000 hairs (2000 grafts approximately): 3150 €

6000 hairs (3000 grafts approximately): 4200 €
GUARANTEE: 80% of the hair will start growing within one year after the procedure, and will not fall again. If this result is not achieved, the clinic will re-implant the lost hairs FREE of charge.

Post-Op Care :
Document outlining the post-operative tasks required
Medication package and saline solution to last you one week after your transplant.
We will monitor your healing process across the first year following your treatment, and offer 24/7 customer service.
HAIR TRANSPLANTATION: AUTOMATED FUE
The procedure usually lasts 1 to 2 days.
Preparation:
Before surgery, doctors require that the hair be cut short all over the head.
For this reason, the clinic does not perform hair transplantation on women.
Extraction of grafts:
With a motorized punch (FUE2 Safe System)
Grafts containing 1 to 3 hairs
Implantation: direct hair implantation with Choi implanter (DHI)
Bruno - 6000 hairs (3000+ grafts)
Alexandre - 4000 hairs (2000 grafts)
Book an appointment to an examination in London, Manchester, Leeds, Birmingham or Dublin, so that we can prepare your personalised treatment plan.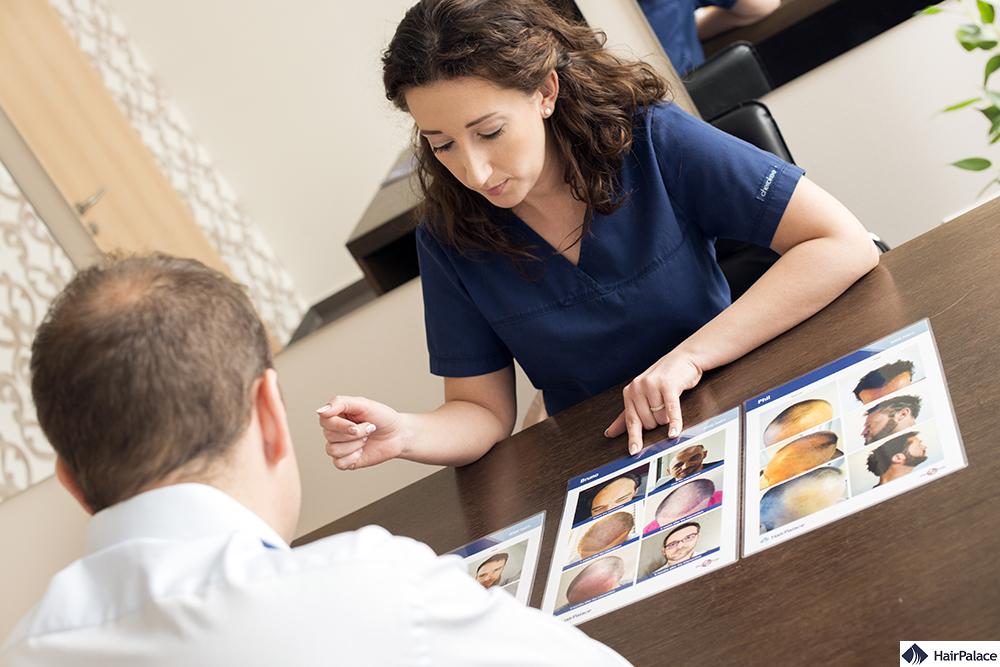 To book, call us on the following number:
+44 330 808 09 06